PT&P Engineering and Design
Live New Webinar
Wireless Technology & Bluetooth Tracking for EPC, Power Plant, End Users, Midstream and Upstream
Join us for a new webinar on Wireless Technology & Bluetooth Tracking. During the webinar, we will talk about the evolution of Wireless communications technologies from wireless bridging, wireless sensors, and instrumentation, as well as RF technology. PT&P has helped innovate with a point to point communication to have shorter turnaround as well as sensors providing more frequent readings with more data to aid with critical decision making. PT&P is the first company to incorporate Bluetooth Low Energy (BLE) technology for the purpose of asset tracking. PT&P has looked extensively at the various technologies that can be used for asset tracking and believes there are significant limitations with historical RFID and Mobile technologies in terms of cost/performance. The BLE emits a signal to your phone and gives GPS coordinates it is compatible with Android and iOS devices. Our strategy is to be cost-effective as well as a practical solution to all EPC project needs.
This technology is extremely critical in linking systems and the people who control those systems together. PT&P utilizes FEA and Thermal Analysis, as well as LiDAR Technology. We have chosen to innovate even further by introducing asset tracking by Bluetooth low energy which makes inventory, supply chain operations, and material management time reduced.
Register for June 25, 2020 – Thur. – 10 am
*Live Webinars are worth 1 P.E. / PDH Credit for TX Professional Engineers
Sign Up Now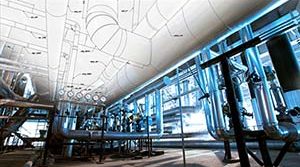 Online Course
Piping Design and Analysis Influence on Pipe Support Selection and Design
Surveying a piping system? Need to change a current system?
This course is also great for…
• New Engineers, Management and Operations
• Field, Process, Maintenance and New Engineers
• Piping and Piping System Designers and/or Instructors

*This online course is approved for 8 hrs. P.E. Credits
Register Now