PT&P received an emergency phone call from a petrochemical plant in the Persian Gulf. There was a ½" gap between the load flange of the Constant Spring support and the Trunion of the process line while the plant was in operation (Fig 1). Our expert field engineer was immediately dispatched to the client site to investigate the issue. An inspection of the products in question revealed that the travel stop nuts were bolted down. This prevented the support table from moving and supporting the pipe (fig 2).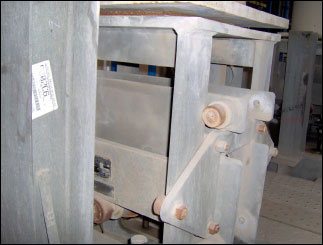 Figure 1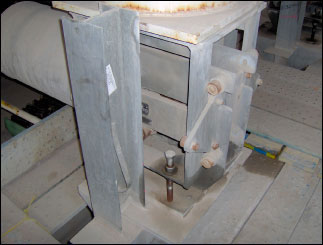 Figure 2
Travel Stop Removal is one of the most important tasks that must to be done when installing a spring support. Travel stops should be removed after Hydro testing when the pipeline is at the "Cold Load." When the stops are left in place, "piping loads" are transferred to the piping system instead of being absorbed by the springs. Some of the results of this are:
• Damage to pump equipment
• Stress cracking of vessel nozzles
• Bearings in pumps failing
• Compressor not staying in alignment
• Seal failure at flanges
• Overloading of adjacent supports
In 30 – 40% of the plants that PT&P visits for site inspection or hanger maintenance issues, there is at least one spring hanger with the stops in place. (Fig 3) The possible reasons for this are:
• Improper Installation
• Failure to remove the stops after maintenance or hydro tests.
• Travel Stops being too difficult to remove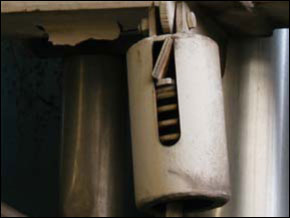 Figure 3: C-Type Variable Spring Can During Operation with Travel Stop in Place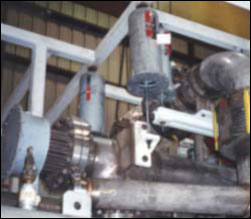 Figure 4: Variable Spring Hangers in New Installation
The following procedures should be followed when installing spring cans. These can be used for either Variable Load supports or Constant Load Hangers which are supported from the top. Bottom supported constants are discussed below.
1. Attach upper attachment(s).
2. Insert load pin attaching the spring to the upper attachment(s).
3. Thread hanger rod into lower attachment. This will be a load column or a turnbuckle.
4. Weld or bolt on pipe attachment.
5. Attach hanger rod to lower attachment
6. Turn load column/ Turnbuckle until the spring starts to compress and every thing is at full tension.
7. The Travel Stops should be easy to remove at this point. For constants, the pin may be pulled out. For Variables, the stop will fall out.
For more detailed instructions please see our installation and maintenance guides:
Variable Spring Maintenance Guide
Constant Spring Maintenance Guide
For F-type Constants (Fig 5.)
1. Secure base plate of the constant to the supporting structure.
2. Loosen the installation bolt (if necessary).
3. After hydro-testing (if applicable), remove travel stop pin.
4. Loosen and remove the installation rod.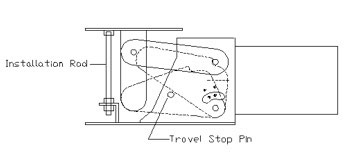 Figure 5
For U type Constants (Fig 6.)
1. Attach base plate to supporting structure
2. Attach support platform to the pipe
3. If there is to be a hydro-test, perform the test at this point
4. After hydro-testing (if applicable), loosen the travel stop nuts to permit the full design movement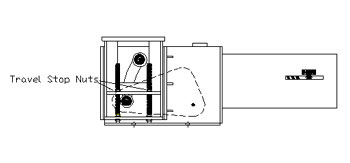 Figure 6
It is also important not dispose of the travel stops once the springs are installed. They will be useful during scheduled maintenance. Anytime that you are going to open up a pipeline with springs on it, you should replace the travel stops. It
reduces flange alignment issues, and prevents the spring from releasing its energy when you disconnect.
We offer:
• Site inspection – inspection of existing supports to determine their condition and recommend other changes.
• Installation inspection – on site commissioning of installations to ensure that the hangers, supports, braces, expansion joints have been installed correctly
• Problem Solving – We can help find the solution to your pipe support problems
• Stress analysis
• Pipeline Design
• Installation
PT&P can and has worked in many places around the US and the World; we have over 30 years of experience in the pipe support industry. We are confident in our ability meet any challenge that comes our way.