Over 116 hot shoes for various sizes of large bore high energy steam lines failed. This caused the Energy Center to completely shut down due to safety concerns and the potential for pipe and/or equipment failure. The original vendor replaced the supports with the same type of supports, and they failed once again.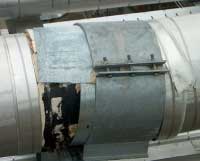 *failed pipe shoes
*failed pipe shoes
PT&P was called in to survey the site and found that the type of pipe support used was not suited for the service conditions.
Because the elevations of all the piping were fixed, PT&P had to develop a pipe support design that would dissipate heat, in order to protect the PTFE, 25% glass filled slide plates from thermal damage. Natural Draft Air Cooling has several advantages over previous designs:
1. Since the insulation does not carry any mechanical load, it can be chosen solely on the basis of its thermal properties. In particular, cyclic loading, which has caused insulation failure, is not a problem.
2. The support provides effective restraint for all six possible components of loads, X, Y, Z-Rotational and Translational. In particular, axial and Torsional loads are readily accommodated. These represent difficulties for supports which rely on the insulation.
3. It is easily installed in the field and is attached to the pipe with a standard bolted pipe clamp. Thus, there is no field welding.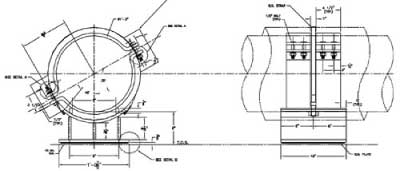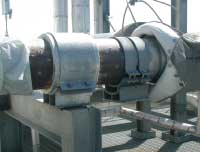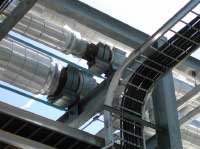 *Removal of the defective supports and installation of the new shoes
• The line temperatures ranged from 650°F to 1100°F.• PT&P performed full EPC services and manufactured all of the supports for this project.
• Finite Element Analysis was also performed.
Piping Technology & Products, Inc. designed the solution needed for this dilemma and acquired a new patent for a pipe support with two clamps that are similar to the Figure 50 light two bolt pipe clamp.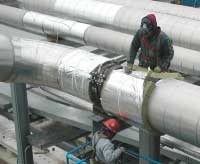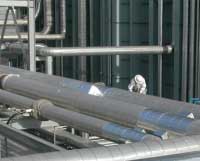 *Restoration of insulation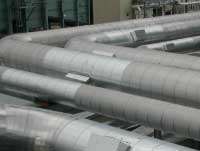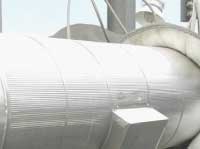 *Steam lines after installation of PT&P's newly designed shoes