Anchor Bolts & Embeds
Anchor bolts are special high-strength bolting used to secure equipment to the foundation. We can supply anchor bolts in various alloy materials or carbon steel, with either a plain finish or a hot-dipped galvanized finish. Embeds are essentially anchor bars used to secure the embed steel into the concrete. Embeds are usually fabricated with carbon steel with a hot-dipped galvanized finish. We also supply open steel grating with various mesh configurations in relation to baring bars and cross bars, which are used for decks, walkways, floors, catwalks, runway and fire escapes.
Sulphuric Acid Plant
Synthetic Gas Plant
Utility Plant
Water Reclamation Plant
Waste Water Treatment Plant
Biofuel Production Pipeline
Booster Pump Station
Bridge Overpasses
Cat Cracker Unit
Coker and De-Coker Unit
Compressor Station
Containment Tank
Cooling System
Cooling Tower
Crude Oil Terminal
See More
GENERAL DIMENSIONS & SPECIFICATIONS
Anchor Bolts
Material: Carbon Steel
Finish: Black, galvanized or painted
How to Order: Specify type, finish, dimensions, nuts and washers if required.
Example: 100 pcs, type 2 anchor bolt with one hex nut and one plain washer: A=1″, D=24″, B=6″, J=8″, E=3″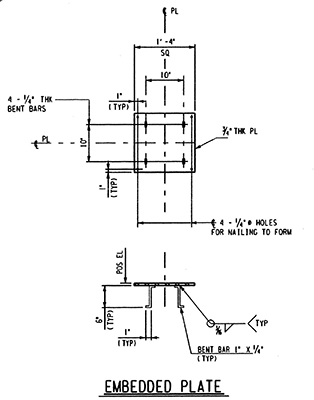 Material: Carbon Steel
Finish: Hot-dipped galvanized
How to Order: Custom manufactured per customer drawing(s)
Example: 100 pcs, Embed Plates