PT&P has extensive experience in assisting our customers with galvanic corrosion (or contact corrosion) issues. 
Our portfolio of products that can assist with galvanic corrosion issues include:
TPI  – TPI is a thermoplastic material designed to sit between the pipe support and piping and minimize the point of contact.
FRP  – Fiber Reinforced Plastic is pad designed to be glued to the pipe so that the pipe will not be directly in contact with the Pipe Support.
Slide Plates – In some configurations, slide plates will minimize the contact between the Piping and Pipe Supports.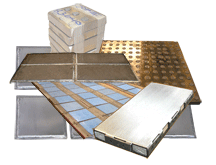 Galvanic Corrosion Assessment
PT&P has extensive experience in assessing galvanic corrosion issues in piping systems. 
Our services include:
Product Selection Support– when you order products from PT&P, we include support on product selection as part of the order.  You can reach an expert from PT&P who can assist in providing a recommended product based on a description of the problem and additional information including pictures, Isometrics, and accelerometer data.