The Next Big Technology for Operating Plants: 3D Laser Scanning
How Can PTP Help
PT&P has been providing field and engineering services to operating plants for over 20 years.  We are adding Laser Scanning as a key capability of our Field Services offerings as well as adding new analytics capability to use as-built drawings to assess issues in the Piping System.  For Operating Plants seeking to leverage Laser Scanning, we can conduct projects or help identify key early wins for Laser Scanning.
View the Technical Bulletin: Precision CAESAR Stress Audit Using Laser Scanning
PT&P offers highly cost-effective services for Pipe Stress Analysis and Laser Scanning. For more information, contact:
LiDAR (Light Detection and Ranging), the technology driving 3D laser scanning, was developed in the 1960s shortly after the invention of the laser and gained awareness with its use on the Apollo 15 mission when astronauts used it to map the surface of the moon.  Below is an example of a Laser Scan from an industrial plant.  The advantage of LiDAR is that it provides an accurate recreation of physical space in the form a "point cloud" which can be converted into an as-built 3D CAD model.

Over the last few years, LiDAR technology has gotten to a price for which it has become viable for a much broader range of applications.  The overall LiDAR market is expected to grow from $700M into over $2B by 2024.  Major applications for LiDAR include Autonomous Driving, Construction, Agriculture, Forestry, and Oil and Gas.  Given the growth of the market, many players have entered the market.  The major players include:
Quantum Spatial (Aerometric, Inc.)
Faro Technologies
Beijing Beike Technology Co., Ltd (Isurestar)
Leica Geosystems
Teledyne Optech Inc.
Riegl Laser Measurement Systems GmbH
Velodyne LiDAR, Inc.
Yellowscan
Geokno India Pvt. Ltd.
Trimble Inc.
Sick AG
Startup Ecosystem
Quanergy Systems, Inc.
Innoviz Technologies Ltd
Innoluce Bv, an Infineon Company
Piping Technology & Products believe that LiDAR has reached the early adopter phase of a traditional technology product lifecycle curve.  This means we will see growing adoption into more industries and use cases as well as a Moore's Law impact on cost/performance as significant research is being done on technology solutions to drive down the cost of LiDAR.  The key focus of this research is on a scalable, low-cost solid-state solution for LiDAR.  Because LiDAR has a high volume killer application in the Automotive Industry (autonomous vehicles), there is significant funding available for both established and startup semiconductor firms to innovate in LiDAR chipsets.  Different firms are innovating in different semiconductor technology approaches to LiDAR solutions including CMOS (Complementary Metal-Oxide Semiconductor), MEMS (Micro-Electro-Mechanical Systems), and Silicon Photonics (use of Silicon as an Optical Medium).
As the chart below shows, we are seeing the pace of technology adoption accelerate over time thus making LiDAR a technology that will likely accelerate rapidly in terms of both market penetration and expansion of use cases in different industries.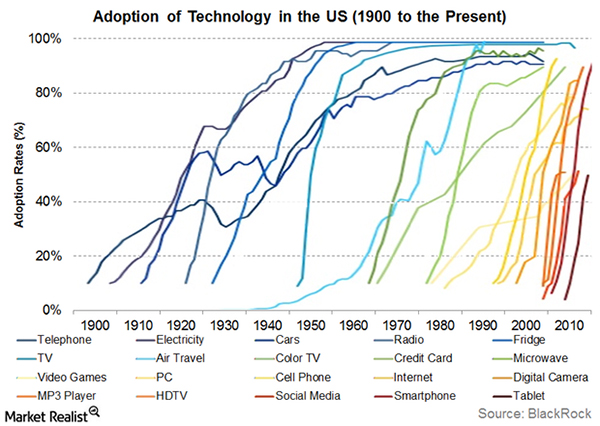 Even with today's costs, there are valuable applications for LiDAR for maintaining the Piping System within Industrial Plants.  Use cases include:
Re-Creation of Drawings – many operators struggle with either not having drawings or having drawings which are out of date. For these situations, LiDAR can be a cost-effective way of recreating drawings and reverse engineering the original design.
Exact As-Built 3-D Model for Modifications – some modifications can require very precise 3-D drawings. LiDAR is a quick and precise way of obtaining these measurements.
Audit of Critical and High Energy Lines – precise As-Built drawings obtained from LiDAR can be compared to Caesar analysis in order to check if the deflections seen over time are consistent with the stresses that were anticipated in the original design. If they are not, the source of the variance should be isolated and addressed.
Smart Plant– laser scanning provides a digital twin of the facility. 3D models can become intelligent when linked to selected types of Operation or Maintenance Data using IOT. For example, a tank 3d model can be used to simulate volumetric changes in real-time based on data received from the field.
Material Takeoff- as-built 3d models can streamline bid tabulation process by providing contractors a twin image of the facility. This will lead to more accurate pricing and delivery schedule.
Visual Asset Management– Laser scanning can digitize entire facilities in 3D. Scan results can then be deployed on the intranet using visual asset management software where all maintenance documents can be aggregated and linked to the digital 3D models.
Costs and Performance
Laser scanning requires a trained technician to spend time on site to capture enough images of the structure being scanned in order to create an accurate 3D model.  More time is required to drive lower margins of error as well as capture larger and more complex structures.  Scanning of an individual piping run can vary from 1-2 hours to several days depending on the length of the run.  PT&P would expect most to be completed within 1 day or less in a plant environment.  The time spent on site would create a point cloud which is basically a "Raw Image".  Additional time would then be spent by a CAD designer to move the raw image into a CAD model.
PT&P would expect the costs for most projects to vary from $3K – $10K+ depending on size and complexity.  We continue to evaluate the market to assess changes in the price/performance of LiDAR technology to see if there are breakthroughs to drive this cost lower.
How to Approach the Use of Laser Scanning
With LiDAR reaching the inflection point on adoption, we believe it is important for plant personnel to assess potential early use cases.  This provides the following benefits:
Gain an understanding of the technology and begin to prove in use cases that are the quickest returns
Allow key personnel to gain experience in LiDAR technology – this will continue to grow the skills of the workforce and prepare the plant for the time when LiDAR technology begins to achieve compelling price/performance
Qualify the use of the technology with key internal stakeholders such as IT, Safety, and Engineering