Piping Technology & Products Pipe Stress Solutions
PT&P was founded as a Pipe Stress company in 1975 and began doing Pipe Stress in 1973.  This was prior to the release of Caesar when most Pipe Stress Analysis was done with hand calculations.  Our ability to solve the most difficult problems led our customers to request for us to supply products as well as do Pipe Stress analysis.  Over the years, we have become better known for our manufactured products.  However, our roots in Pipe Stress Engineering are reflected in everything we do.
PT&P's operating strategy is to provide our customers with superior value by remaining narrowly focused on Piping Systems.  As a result, PT&P's Pipe Stress Analysis expertise is most commonly used on smaller projects or as a subcontractor to another engineering firm on a larger project.  In particular, we tend to be very cost-effective for simpler projects such as recreating the loads and movements for Spring Supports for which the original design information has been lost.
PT&P trains more people on pipe stress than anyone else in the world. Here's an example of training we provide to non-piping personnel.
The advantages of working with PT&P for your Pipe Stress Analysis include:
Rapid Turnaround – PT&P can turnaround Pipe Stress Analysis in as little as 3 days
Cost-Effective – PT&P has a unique cost structure for small project consulting work as we have a large engineering staff of over 70 design engineers. This allows us to quickly staff a small project without worrying about staff utilization the way other firms might.
Small Projects – PT&P welcomes working on even the smallest of projects
Component Engineering Expertise – PT&P truly understands all elements of the piping system is extreme detail
One-Stop-Shop – PT&P can handle all aspects of the project from Pipe Stress to quoting material, to supporting on-site Installation
Examples of work we have done include:
Estimate Loads for 5 Springs on a Line
Recreate Pipe Stress Models for the key lines for the Restart of an Existing Plant
Conducted Pipe Stress Analysis and Design of all Pipe Supports for a Power Plant Build
Case Study: Recreating Spring Support Load and Movements
An operating plant had lost the design information for a line with 5 spring supports.  We offered them the option to estimate or to run a Pipe Stress Analysis to get exact information.  In this case, the customer decided to proceed with the stress analysis.  Figure 1 shows the output of the analysis.  As can be seen from Figure 1, we found that the unsupported span of piping was creating a moment force above maximum allowable at the nozzles.  We did not know if the original design was incorrect or if changes had been made over the years.  However, in our experience, many customers do make changes over time in their piping systems without updating the Pipe Stress Analysis.
Figure 1
 –  Pipe Stress Analysis for As-Built System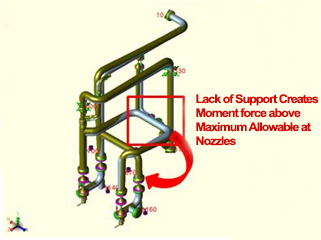 In this case, PT&P updated the analysis with the addition of an additional Spring Support.  Figure 2 shows the updated movements of the Piping System.
Figure 2
– Pipe Stress Analysis with Additional Spring Support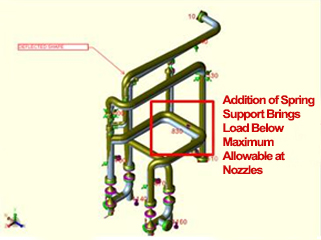 Stress Analysis Projects by PT&P:
Celanese: Pump P-30189 & P-30190 Discharge piping stress analysis. PT&P reviewed the CAESAR model from the client and determined that there was excess torsional force on the expansion joint in the customer design.
Olin Chemicals: Pump P-910 Suction and discharge piping spring supports bottomed out. PT&P performed the pipe stress analyses for the pump suction and discharge piping and determined the loads and movements for replacing the spring cans.
ExxonMobil Mont Belvieu Plastic Plant:  PT&P performed the pipe stress analyses for the pump suction and discharge piping and determined the loads and movements for replacing the spring cans.
Entergy/ Nisco: PT&P performed the stress analyses for the HEP systems for loads and movements to replace the existing spring supports.
Flint Hills Resources: PT&P performed stress analysis for cells 1 thru 4 for the FHR CCR Heater Units.
Vopak Terminal, Deerpark: PT&P performed stress analysis for two tanks discharge piping.
J&J Engineering: PT&P performed stress analyses for multiple plant piping for J&J Engineering.
Formosa: PT&P performed stress analysis for the sweep gas piping.
OCI Beaumont, LLC.: PT&P performed stress analysis for BFW piping.
Houston Product Company (Atlas Copco): PT&P performed stress analyses for the HSI Test Stand Piping
Huntsman
Shell Deerpark
Occidental Chemical Corporation
Portland General Electrical
Indianapolis Power & Light Company
Oxy Vinyls, LP
Westlake Petrochemicals, LLC
Tesoro
Ineos Styrenics
Valero Refining – Texas, LP
Rhodia, Incorporation
Valladolid III Energy Center

Occidental Chemical Corporation:  Stress Analysis was performed to prove that removing or adding expansion joints wouldn't harm the system.

Oxy Vinyls, LP:  Stress Analysis was performed to correctly size the proper style of expansion joints.
| | |
| --- | --- |
| | |