Products
Product information pages.
Thermoplastic Isolator (TPI)
Insulated Supports (Figures 4500 – 4800)
Insulated pipe supports are designed to prevent direct heat transfer between pipes and their supports. Thus, they reduce heat loss due to conduction at each support. They serve the following purposes: Carry the load and allow necessary movement at each suppose point, provide insulation in the support area where the regular pipe insulation cannot be installed and minimize the cost of field installation by reducing installation time. The supports are not welded to the pipe and each unit is shipped completely assembled (except for the riser supports and anchor supports, both of which require some welding).
Single expansion joints are the most common and simple type of expansion joint designed and manufactured by U.S. Bellows, Inc., a division of PT&P. This type of expansion joint is a single bellows element with end connections known as flanges and ranges in size and materials. Our standard bellows range from 3" to 156" in diameter; however, we can provide any diameter your application specifies. Single expansion joints will deflect the movement in any direction or plane the bellows element allows. This style of bellows will not resist deflections except for the resistance of the bellows and requires the piping to be restrained or controlled by main/directional anchors.
U.S. Bellows has been providing expansion joints since the 1960s and was acquired by PT&P in 1997. PT&P is uniquely positioned to service expansion joints as we are the only bellows manufacturer globally with deep pipe stress engineering expertise who manufactures expansion joints and engineered pipe supports. With our unique engineering expertise in expansion joints, pipe stress, and engineered pipe supports, PT&P/US Bellows has developed hundreds of custom designs for unique customer requirements. Lastly, PT&P/U.S. Bellows is one of only 14 global members of the Expansion Joint Manufacturer's Association, which sets the standards for expansion joint engineering.
Choosing an experienced bellows manufacturer will reduce your plant shutdowns and service outages, along with simplifying at least one part of your overall project.
Sweco Fab has been fabricating various types of pressure vessels for the past 25 years in accordance with ASME Sec. VIII, Div 1 (2021 edition). We also fabricate welded steel tanks per API 650, API 12F codes & custom design tanks. Sweco Fab had fabricated vessels that fulfilled specifically to each customer's requirements and will continue doing so in the future.
Sweco Fab can fabricate pressure vessels made out of Carbon Steel (including Low Temp CS A350 LF2), Stainless Steel (304/L or 316/L) and Cr-Mo Grade 5 (A387 Grade 5). The sizes ranges from 6″ OD to 110″ OD with vessel thickness up to 2″ thick. Our shop can accommodate vessel weights up to 40,000 lbs (20 tons) max.
We have certified welders, pipe-fitters and QC inspectors plus credible subcontractors to satisfy NDE requirements (X-ray, Dye Pen, PMI, Hardness and PWHT) per project specifications. Yearly training and refreshers are conducted in accordance to ISO 9001 Standard.
Sweco Fab has currently both ASME "U" Stamp and "R" Stamp authorized by the National Board of Boiler and Pressure Vessel Inspectors.
48" OD X 120" LG. Lube oil storage tanks were fabricated out of all stainless steel for the chemical company. Storage tanks were designed for atmospheric pressure & temperature. All tanks were supplied with saddle structural support & ladder for inlet access on Top. Fabricated Oil storage tanks were supplied with 300 gallon, 500 gallon and 1000 gallon capacity.
Universal Expansion Joint
The main purpose of the universal expansion joint is to accommodate lateral movements that a single expansion joint cannot handle. The universal expansion joint consists of two bellows separated by a pipe spool section. The ability to accept lateral deflection depends on the angle that each bellow can absorb. The additional increase or decrease of the lateral deflection is influenced by the distance between the bellows so by changing the length of the pipe spool, the spring rate of the universal expansion joint can be affected.
The advantage of the universal expansion joint's construction is its ability to absorb any different types of displacement: axial, lateral, and angular, as well as their combination. Lateral and angular movement of the pipe system can be limited by tie rods, which at the same time balance the pressure thrust in this part of the piping system. For these types of joints designed for only lateral movement, the overall length of the unit does not change when the pipeline is heated. This solution successfully solves the problem of thermal expansion of pipelines. You can find more details about the maximum temperature and number of cycles that standard universal expansion joints can withstand on the page about this product.
Piping Tech & Product Inc. / U.S.Bellows is a PT&P subsidiary company. This experienced manufacturer, with the tradition of making expansion joints, stretches back to the middle of the last century. In addition, PT&P has a long tradition of designing, manufacturing, and servicing expansion joints and pipe supports. Besides standard products, PT&P and U.S. Bellows design and develop these devices for customers with special requirements. PT&P / U.S. Bellows actively participate in the work of the Association of Manufacturers of Expansion Joints, which sets standards for the engineering of expansion joints.
Information on expansion joints and the design life of these units can be found on the Cyclic Deflection and Cycle Life page on the US Bellows website.
Sweco Fab supplies orifice plates (with concentric, eccentric, or segmental bore) in Stainless Steel or other Nickel alloys, Monel 400, Alloy 20, Inconel 600, 625 and 718, Hastelloy C276 & B-2, Titanium Gr.2. The shape and manufacturing tolerances of plates used in measurement applications are defined in the international standardization publications of ISO, AGA, ASME, and others.
SWECO® Paddle Style Orifice Plates (OP) are designed to fit between two specially modified flanges inside what is called an Orifice Flange Union (OFU). Orifice plates within OFUs are designed to create a restriction which causes the pressure of the fluid flowing through the pipe to drop.  The drop in pressure varies directly with the flow of the fluid within the system. Virtually any bore shape or configuration can be used to measure flow in a pipe, but the most common is a concentric (center) bore with a round hole having square, conical, or quadrant (radius) bore wall. Bore Calculations are available upon request.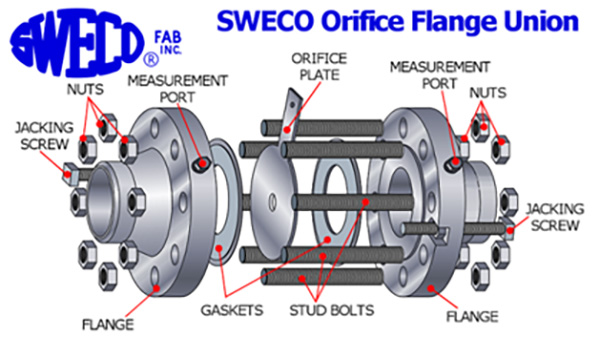 The Orifice Flange Union will consist of the following parts:
Two special flanges facing each other (modified with jacking screws and ports)
Two gaskets
Studs and bolts
SWECO ® Orifice Plate
Additionally, some OFUs have dowel pins to improve accuracy of alignment.
It is common for the OFU to have flanges with a material consistent with the pipeline and an Orifice Plate of stainless steel.
Gallery
View more images of Orifice Plates & Flanges
Product Page
Find more about Orifice Plates & Flanges
Pipe Shields Pre-Insulated Pipe Supports (A1000 – G3000)
For more than 40 years Pipe Shields Inc. and PT&P have reached throughout world markets to design and develop for power, petrochemical, chemical, and commercial industries. The accomplishments of our high-quality products are a direct result of years of research and engineering to create cost-efficient products. Pipe Shields insulated supports incorporate materials strong enough to carry the load while insulating the pipe at the same time. These supports were designed because fiberglass and foam glass materials were not strong enough to carry the load at the point of support without crushing.
Pipe Shields developed a variety of insulated pipe supports for a number of different industries designed specifically to carry the load, limit the amount of welding required, and prevent metal to metal contact.
Commercial and Light Load Applications (A Models)
Models A group are widely used in commercial applications and for smaller loads and movements, like chilled and heated water systems. That makes this model group popular among mechanical contractors.
Heavy Industrial Applications (B and C Models)
Model – B group was built to support larger loads (vertical and lateral) and movements. Some models support the pipe from below. Commonly used in heavy industrial and large HVAC distribution system
Model – C group was built to support larger vertical loads while limited movement in the lateral and axial directions. These are commonly called Pipe Anchors.
Pipe Riser Clamps Applications (D, E and G)
Fabric expansion joints are often used in ductwork to transfer hot gases under low pressures. These expansion joints normally consist of fabric belting material and a metal frame. Combining different insulation layers, which are made of different fabrics, help the fabric belt and insulation layers to adapt to the temperatures and pressure in the system. Insulation pillows, accumulation barriers or flow liners are used to protect the fabric belt in cases where the fabric material needs to be additionally protected. The fabric expansion joint frame connection with channel ends can be welded or bolted to the duct ends.
For example, take ductwork for the transfer of hot, low-pressure media in power plants. In this kind of large combustion process, we have "flow of air" and "exit gas". In this kind of large combustion process, we have "flow of air" and "exit gas". In such ducting systems, expansion joints made of fabric can perform a double function. To compensate for thermal growth of the duct and compensate for minimum duct misalignments on expansion joint connection points.
This type of expansion joint can be inserted into the parts of the ductwork where movement occurs. The advantage compared to metal expansion joints is reflected in the absorption of larger movements and the absence of spring loads that could be transferred to other parts of the ductwork. By reducing the thermally induced stresses in the ducting, other elements of the ductwork, such as supports and related equipment, will be exposed to lower stresses.
U.S. Bellows, manufacturing tradition stretches back to half of the last century. The team of engineers at PT&P / U.S. Bellows has extensive experience in assessing operating conditions and designing expansion joints. The types of frames manufactured at U.S. Bellows have features designed to reduce the adverse effects caused by pressure, temperature and turbulence of various media. Fabric expansion joints, designed this way, have a long service life.
The fabric belt deforms depending on the movement of the duct. The fabric must perform its main task without tearing. The fabric is sometimes exposed to high temperatures and/or corrosive media, so it may need to be changed periodically.
Pig Launchers & Receivers
Pig Launchers and Receivers are installed in pipelines to launch and receive Pipeline Pigs. Pigs can be used for the cleaning of pipelines. In addition, Pigs can be used for the separation of two products within the same pipeline. Sweco Fab has over 40 years of experience in designing and manufacturing a wide variety of ASME/Misc. Fabricated Products – including Pig Launchers and Receivers.
Sweco Fab fabricates these pig launchers and receivers per ASME Code B31.4 and B31.8.Major and minor barrels can be supplied both in Carbon Steel and Stainless Steel, including API 5L X42 to X65 pipes. Barrel sizes range from 4" x 6" 150# rating up to 48" x 54" 900# rating. NDE (Non-destructive exams) like X-ray, Dye Pen aka Liquid penetrant test, PWHT, Hardness test, PMI and Hydro-test with chart recorders are performed prior to shipment.
Transition Pieces/Duct Work
Rectangular Expansion Joint
Elbow Pressure Balanced Expansion Joint