Sweco Fab supplies orifice plates (with concentric, eccentric, or segmental bore) in Stainless Steel or other Nickel alloys, Monel 400, Alloy 20, Inconel 600, 625 and 718, Hastelloy C276 & B-2, Titanium Gr.2. The shape and manufacturing tolerances of plates used in measurement applications are defined in the international standardization publications of ISO, AGA, ASME, and others.
SWECO® Paddle Style Orifice Plates (OP) are designed to fit between two specially modified flanges inside what is called an Orifice Flange Union (OFU). Orifice plates within OFUs are designed to create a restriction which causes the pressure of the fluid flowing through the pipe to drop.  The drop in pressure varies directly with the flow of the fluid within the system. Virtually any bore shape or configuration can be used to measure flow in a pipe, but the most common is a concentric (center) bore with a round hole having square, conical, or quadrant (radius) bore wall. Bore Calculations are available upon request.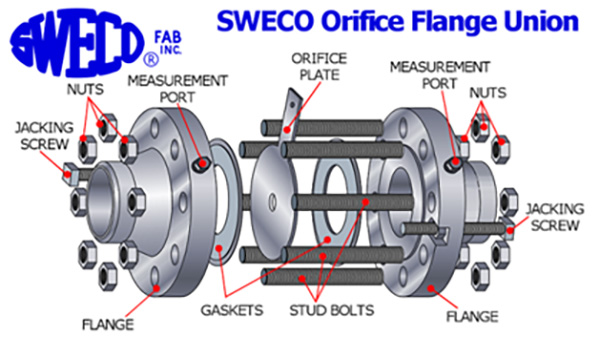 The Orifice Flange Union will consist of the following parts:
Two special flanges facing each other (modified with jacking screws and ports)
Two gaskets
Studs and bolts
SWECO ® Orifice Plate
Additionally, some OFUs have dowel pins to improve accuracy of alignment.
It is common for the OFU to have flanges with a material consistent with the pipeline and an Orifice Plate of stainless steel.
Gallery
View more images of Orifice Plates & Flanges
Product Page
Find more about Orifice Plates & Flanges