November 22, 2022
PT&P supplied "on-time delivery" of two industrial structural steel pipe racks and the accompanying pipe spools that would be attached to storage tanks measuring approximately 120 ft. in diameter and over 85 ft. tall. Pre-Engineered Pipe Racks attached to storage tanks are used in a wide range of industries from Waste Water Treatments plants, Community Water Storage Tanks, to Above Ground Storage Tanks used in Refineries, Natural Gas, and Petrochemical plants.
PT&P leveraged its breadth of manufacturing and engineering capabilities to reduce costs for its client in the deployment of this Pipe Rack. Our focus was to complete as much work as possible in our production facility, where costs are typically far lower than in the field. We made adjustments to the design to aid in-field deployment to minimize total overall costs. This project also leveraged our capabilities with structural steel, pipe spools, TPI, and insulation. We have all of these capabilities in-house, which made it easy to fabricate the complex structures in this project.
Each pipe rack had an overall dimension of 12 ft. wide and 113 ft. tall and was fabricated from carbon steel. Due to the overall length, each frame was fabricated in two sections in our shop in order to transport each to the job site. Additionally, each frame was provided with lifting lugs designed by PT&P to facilitate both, the transporting of each frame half-section and the subsequent vertical lift of each completed unit. Each pipe rack was fitted with 9 pipe spools ranging in diameter from 2″ to 12″ (6 were insulated pipe spools, and 3 were non-insulated pipe spools). The pipe material used to fabricate the pipe spools were SA-53, SA-106, and SA-333.
Six of the pipe spools were supplied pre-insulated. At the ends of each section of the pipe spool, there were bare sections of pipe where PT&P Field Service would later perform "tie-in welds" in the field.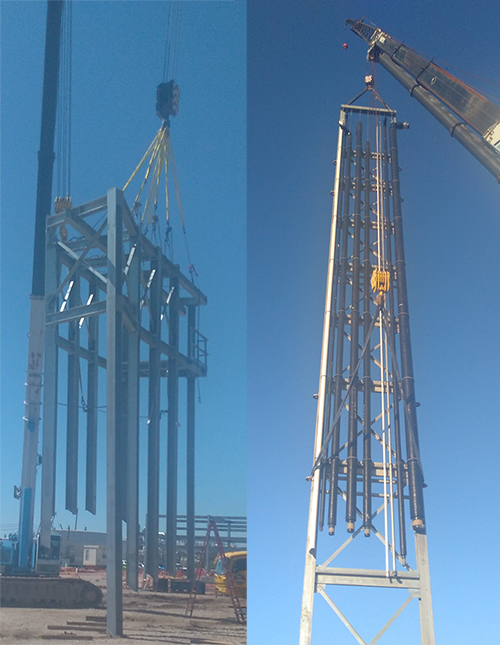 After completing shop fabrication, the pipe racks were prepared to be transported to the job site location for final assembly before installation by PT&P Field Services. This consisted of bolting the two halves of the pipe rack together and completing the "tie-in welds" at each pipe spool connection. All of the "tie-in welds" were examined and verified by X-ray analysis. After completion of all the "tie-in welds", PT&P Insulation Department installed insulation in the field on the 6 pipe spools requiring insulation at these connection points.
Each section of the pipe spool was supported from the top of the rack by a rigid rod hanger also supplied by PT&P. Rod hanger assemblies are round steel bars normally threaded and used to connect other components, such as pipe support hardware, to make a pipe hanger assembly. PT&P's field service team installed the main pipe rack with seven pipe spools each over 86 ft. long on large storage tanks. The pipe spools were positioned on the pipe rack steel using special U-bolts to "guide" the piping.
U-bolts are u-shaped rods with threaded ends that fit around a pipe and are attached to a supporting member. These U-bolts were coated in plastic to prevent corrosion between the pipe and the U-bolt material. Additionally, Thermal Plastic Isolators (TPI) were also used to prevent corrosion between the pipe rack steel and the pipe spools. TPI can be customized in height, width, length of TPI, hole sizes, hole locations, and special shapes.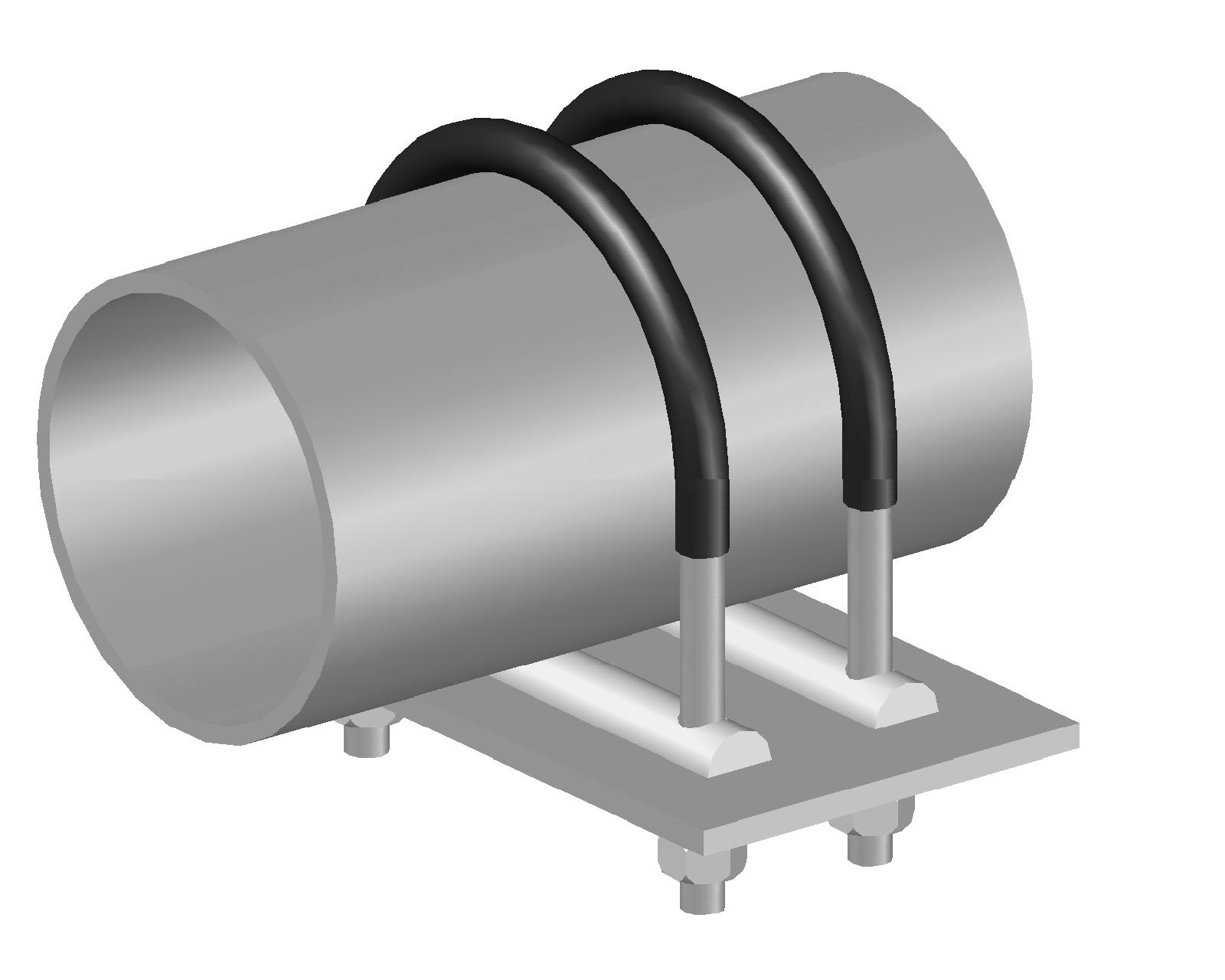 Also installed on the Insulated pipe spools were FRP wear pads that rested on the thermoplastic Isolator. FRP is also known as non-metallic wear pads, which are used for corrosion protection for uninsulated piping systems to extend the life of the pipe.

After assembly by PT&P Field Service, each complete unit was lifted vertically into position and bolted to the storage tank at the "tank connection points." This demonstrates our ability to provide rare expertise in all facets of project management including planning, engineering design, logistics, and job site management.
We have a fully diversified operation that is customizable based on your unique needs. If you just need stock supports and standard items, we can provide them very quickly. Our engineering team can help find the best support(s) for your application. Or our field service team can inspect your pipeline conditions and recommend the best solutions. Our team also regularly completes installations and conducts on-site project management. We are your one-stop shop for pipe supports, insulated supports, expansion joints, vibration solutions, pipe stress analysis, and more.
PT&P REF. ORIGINAL POST 05182021